Factory54 is releasing a special photo-series starring Lauren (Lori) Stern, 22, from "Pardes Hanna" (Israel) a model, a blogger, and an activist for body positivity. Shot in Tel Aviv, this series presents the prominent items from the new SS 2021 collection. It was explained that Lori was chosen for this photoshoot because alongside her modeling career, she gives body-positive lectures, is interviewed on morning shows and magazines, writes opinion pieces and maintains an Instagram page that is full of style, positivity, and authenticity, where she spreads messages of self-acceptance.
Lori started her activity at the age of 17 out of her fondness for fashion and styling, but also out of a sense of mission. "As a child, I was not exposed to media representations of women or men at all who looked like me, and in some sense, it made me very judgmental and critical of myself and act out of very painful and negative places," Lori says. "It was only when I saw that there are people like me, especially women I can identify with, who live their lives with tenderness and compassion towards themselves, that I realized it was actually something I was allowed to do myself."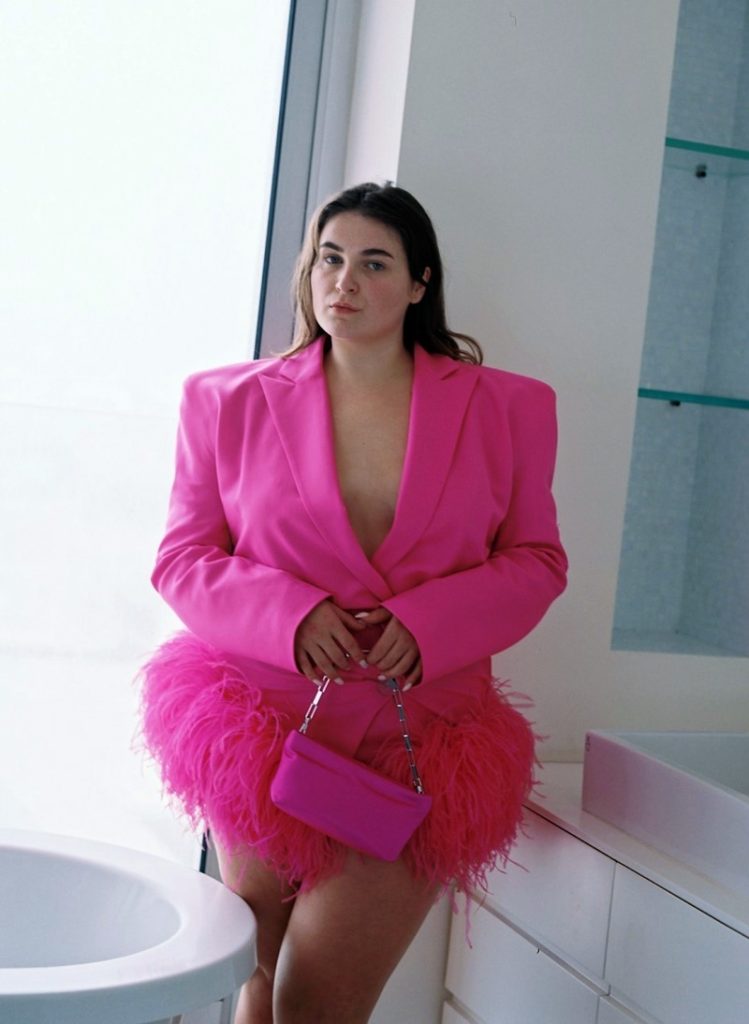 For several years now, Lori has been modeling for fashion brands and magazine productions and was recently featured on the Instagram page of Vogue USA. "Today I try very hard (and not always succeed) to look at myself as a whole because I really believe that the whole is greater than the sum of its parts."
In the photos, Lori shows off the new featured items from the Spring-Summer 2021 collection, including a black swimsuit from the Italian fashion house VERSACE, designed in a cut-out look with a gilded ring and reminiscent of Jennifer Lopez's iconic style; Sensual retro-style overall in the design of the DSQUARED2 fashion house combined with a VERSACE gold buckle belt; Double-breasted jacket with a timeless look, designed by the French fashion house ISABEL MARANT combined with earrings from PACO RABANNE; A sporty-looking look that includes a top and pants in the kicking OFF WHITE brand design; And a red wool coat with a tie belt designed by MICHAEL KORS, photographed against the backdrop of the spectacular beach of Tel Aviv just before sunset.
The photo series also focused on a palette of shades of pink. Among the prominent looks is a blazer adorned with fuchsia-pink feathers in the design of the Italian fashion house THE ATTICO, which can also be worn as a mini dress; A complete swimsuit from the British brand HUNZA G, which is combined with the pink and shimmering miniature bag from the FENDI fashion house, which is tied as a gold chain belt around the waist; Sweatshirt with a pink-baby logo print in a BALENCIAGA design combined with OFF WHITE sneakers; And the iconic CALVIN KLEIN lingerie that is also offered in various sizes.