Kyaré considers color as a source of life and expression, without color life is void. From an early age, Kyaré expressed her passion for art and colors in a natural manner, which led her to enter the world of art, learning various techniques of artistic expression where she would work with the enchanting world of color.
Your passion for color led you to research and seek answers about colors, where did you find the right information?
For a long time I used color intuitively, I did not think color was anything other than color, but using it made me feel a particular way. A short time later, I discovered chromo-therapy, which did not convince me of it's effectiveness, but made me understand that colors apart from being appealing may be useful and in some way's affect people.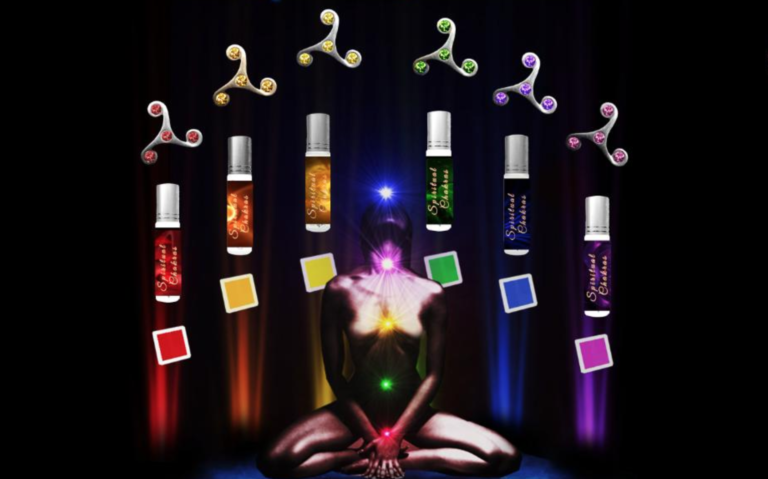 Courtesy of lafemmerituel.com
Later in my art studies, my professors explained how advertising and marketing use colors to convey sensations to the consumer and it was very impressive to understand how they manipulate the mind through colors. Finally, I had the superlative experience through a book called El Manual del Chromo-specialist written by Adras, an expert in color and energy. His book fascinated me from the first to the last word, a very complete guide on the characteristics of color and the benefits of the correct use of chromatism on a daily and therapeutic level.
How are the colors expressed in your life?
I have had the great priviledge to work with Adras for several years and learn all about color and their own methods of well-being, which has led me to have a healthier and chromatically conscious life as well as to specialize in chromatic well-being. I have become accustomed to sleeping with white clothes and sheets since this way, it helps the energy to balance spectrum of color while we sleep. On the other hand, if I want to rest for a few hours, I'll immerse myself in a soothing blue bath, but if I need to be active, I dress in emerald clothes … life with color is a constant game.
Courtesy of blog.inmod.com
How would you say colors are expressed in your work?
In my work the color is elementary, because with it I can transmit what I want in a more direct and effective way, for example if I want to create a collection of jewelry that transmits mysticism and magic, the color of the gems will be the indigo but if I wish create powerful and passionate jewels, the ideal color will be purple. In painting the same thing happens, if I want to paint and transmit explosiveness or war, I will use the orange or reddish tones, if I wish to transmit light and wisdom, the tones will be yellow. On the other hand, in my dance and color meditation sessions, color light plays a basic role since with light we can immerse people in powerful chromatic effects in a simple and natural way.
What is the difference between using colors intuitively and using them intelligently?
I consider intuition to be a very powerful and useful tool, but the color is very playful and it is a very difficult code to decipher. That is why the Manual of the specialist chrome of Adras as well as its last book the RFC (Regulation of Chromatic Frequencies) are very important to understand the nature of color and know what color we need at each moment. For example, intuitively a person may wish to use green and dress green daily, but the person does not know why he or she does it. When someone says "this is my favorite color" it can be for several reasons, the first one its color range tends naturally to be of that color or they may have a deficit or excess of that color expressed in their energetic field. Knowing how to consciously use color correctly can bring health and self-understanding.
How do colors affect our health?
 The colors may seem harmless, but they affect our wellbeing positively or negatively. People who are not aware of color can easily be victims of its effects without even imagining it. For example, someone who lives in a house with red or orange walls, possibly end up being a radical or aggressive person, as well as people who work in offices with bright and dissonant colors can feel restless and annoying for no apparent reason and not yield enough.
How do you think colors can help personal development and personal empowerment?
To understand what colors are predominant in our being, to understand in each moment what color we need is of vital importance for a correct personal development enhancing our qualities and minimizing the defects. Colors also have a great social value, since understanding the colors of others can also help us to understand our friends and family more and have healthier and more stable relationships. In addition, if we learn to use colors in decoration, dress or meditation, the benefits can be really great. Knowing that using bluish colors during menstrual processes will soften the pains or use purple colors in post-operative to help the body recover, is priceless.
 At first glance, women seem to react more than men to the world of colors and products that have evolved. Why do you think that is?
I consider that the woman in her essence is an intuitive and sensitive being by nature, with the ability to understand her natural state and environment. But many women are taking steps away from their natural essence and are rushing towards the abyss of unconsciousness of the authentic femininity.
I firmly believe that colors could be the knowledge that the woman of the 21st century need to take care of their energy, mind and body, in a natural manner and understand their own feminine essence, returning to the origins of the wise and complete woman. On the other hand, I really believe that men also have the ability to feel color, understand it and know how to use it. They must only accept that they are also sentient beings.
Women, men and children of all ages can benefit from the healing effects of color, especially children and babies who are extremely sensitive to light and color frequencies.
From your experience, how can you develop an awareness of the world of colors and their efficiency in everyday life?
As I have mentioned, for me the manuals and books written by Adras are the fundamental basis of a healthy and balanced life, I believe that chromotherapy is not always considered effective because of the number of errors in its study and application, this can make people believe that the chromotherapy simply does not work. More than 40 years ago, Adras undertook his own hands-on color research and developed several very effective natural wellness methods such as the DFL (Light Frequency Deficit), the RFL (Light Frequency Regulation), the Chromal Chromatic-Musical or the Energy Jewelry. D-Jewelergy, very effective practices and very far from the stereotyped chromotherapy.
I have no doubt in keeping the knowledge developed by Adras, since its results do not leave anyone indifferent and have changed my life completely towards a natural conscience and well-being, difficult to achieve with other methods.
How would you summarize the world of colors and what do you think is most important to keep in mind when teaching how to use colors consciously?
The world of colors are magical, it is a secret code that is not always obvious, but once you learn to recognize it correctly, life becomes easier and more enjoyable. From all this knowledge, personally as a color specialist I have developed dance practices and chromatic meditation which favor the chromatic absorption and the understanding of color as well as the intuitive and mental aspects of women. In addition, together with Adras we have grouped all your natural wellness methods in our joint firm called La Femme Ritual, where we have adapted all methods and products to the needs of the current woman's well-being, so that she will have all the necessary tools to take care of her energetic health in a 100% natural way.  La Femme Ritual welcomes men and children who want to live life in color and take care of themselves in a naturally!
For more info please visit the website: www.lafemmerituel.com and for Jewelry www.kaurumjewels.com
Written by Sagi Gross
Translation by Sharon Esther