MATIERE PREMIERE is a French fragrance brand that was founded by a perfumer named Aurélien Guichard. The brand's philosophy centers around the idea of using high-quality raw materials, or "matieres premieres," as the foundation of their fragrances.
MATIERE PREMIERE offers a collection of fragrances that are categorized according to their primary ingredients, the scents are very strong and open up on the skin over time, a rich fragrance that does not fade. Each fragrance is designed to showcase the beauty and complexity of a specific raw material chosen by founder Aurélien Guichard.
Many perfume brands use synthetic ingredients or blends of materials to create their fragrances, while MATIERE PREMIERE seeks to highlight the individual characteristics of each raw material.
Additionally, MATIERE PREMIERE is known for its use of natural ingredients in its fragrances, which is a unique approach in a market that often relies heavily on synthetic materials. The brand's founder, Aurélien Guichard, is a fourth-generation perfumer (his father, Jean Guichard, is also a well-known perfumer) who started his career in the fragrance industry in 2002 and has since become a highly respected and sought-after perfumer. He has worked with several major fragrance brands, including Gucci, Giorgio Armani, Givenchy, and Tom Ford, among others, and his expertise and passion for raw materials are reflected in the brand's offerings.
Guichard has won several awards for his work in the fragrance industry, including the Prix François Coty in 2017, which is one of the highest honors in the French fragrance industry. He continues to create innovative and beautiful fragrances for both his own brand and for other major fragrance houses.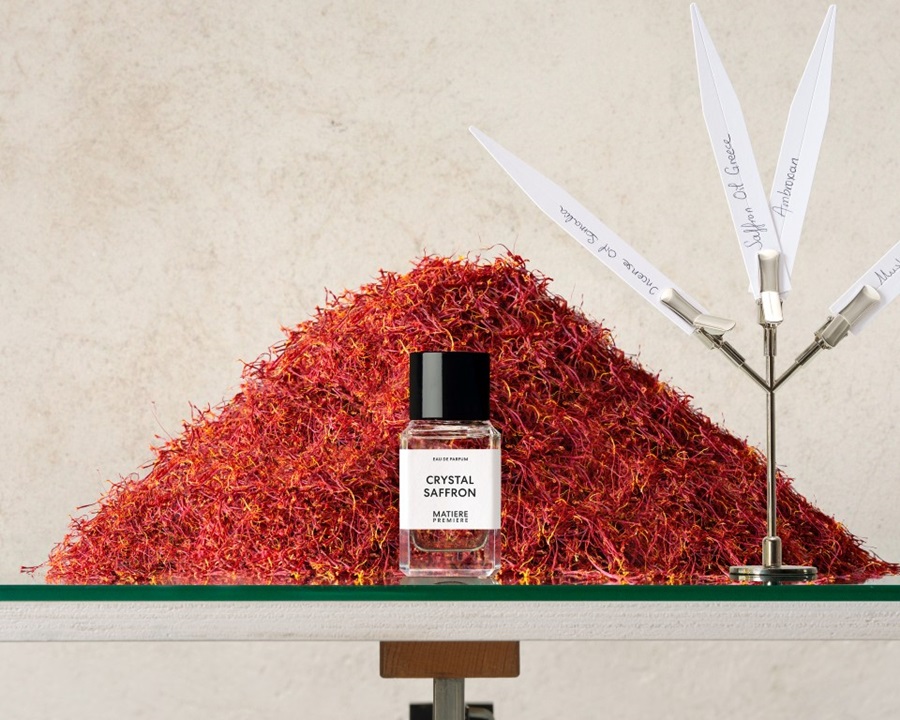 The inspiration and idea for the new fragrance CRYSTAL SAFFRON was fresh saffron. The perfume has the scent of a touch of saffron oil from Greece wrapped in incense from Somalia and leaves behind an uncompromising fragrance on the skin throughout the day with a lasting presence. The new fragrance contains agave, saffron from Greece, musk, frankincense oil from Somalia and ambroxan.
MATIERE PREMIERE perfumes contain between 85%-92% natural ingredients. They are vegan and their color is given solely by their ingredients, without any coloring matter.
Contents: 100 ml, eau de parfum
Price 875 NIS
Available at the BEYONDSKIN boutique stores in the Ramat Aviv Mall, second floor and in the Golden Mall, Rishon Lezion, ground floor, HaTza'arim Avenue and in selected stores.
beyondskin.co.il